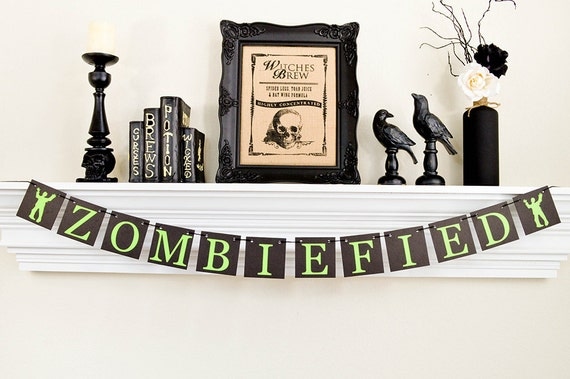 Zombie Sign
Our Spooky banner is perfect for a Kids Halloween Party. Fun Zombies Halloween Props and Trick or Treat Sign! This Zombie sign "Zombiefied" banner was made with: 1. Black 4"x4" Chipboard 2. Cardstock Letters in Lime Green 3. Glitter Lime Green Zombies 4. Black Jute Twine 5. Banner length is about 48" long depending on how you space each board!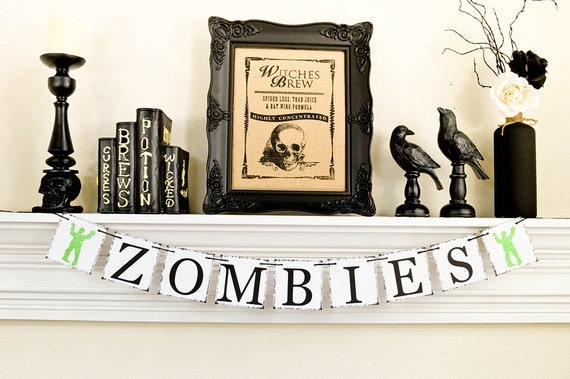 Halloween Banner,
Our Zombie Halloween banner is a great Halloween Decor or Halloween Prop to welcome Trick or Treat children! This Halloween banner was made with: 1. White 4"x4" Chipboard 2. Black Inked Edges 3. Cardstock Letters in Black 4. Lime Green Glitter Zombies 5. Black Jute Twine 6. Banner length is about 36" long depending on how you space each board!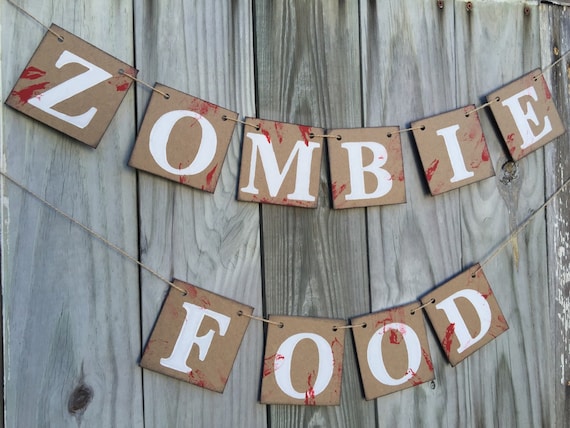 Halloween Decorations - Zombie Banner
Here is a fun banner to use at your Halloween party every year!! Perfect to hang over your food and treats table!! Also makes a fun party decoration for all the Walking Dead fans who have weekly viewing parties! I made this banner on brown 4x4 inch chipboard pieces. I antiqued the edges of each piece with black ink to give it that vintage look. I hand stamped the letters with white acrylic paint. I hand painted the BLOOD drips with red acrylic paint on each piece for a very scary effect!! I hung this banner with twine. This banner measures ZOMBIE- 24 inches FOOD- 16 inches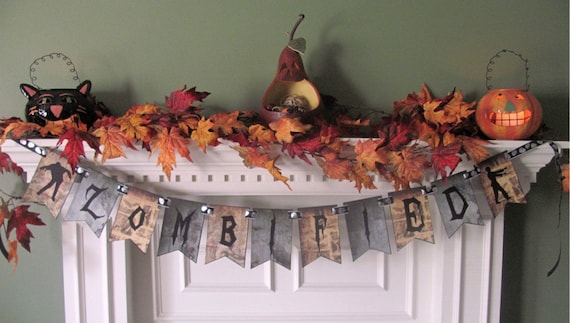 Zombified Halloween Banner featuring spooky zombies
Zombify your party with this fun "Zombified" Halloween banner. Banner features dark and creepy halloween paper and a fun Zombie font that has been cut from black card stock. The zombies have come out to anchor banner. Banner panels measure 41/2" x 61/2" and are constructed of heavy weight card stock. Banner is very durable and may be used year after year. Banner is strung with black ribbon adorned with scary silver skulls. Banner is approximately 41/2 ft long.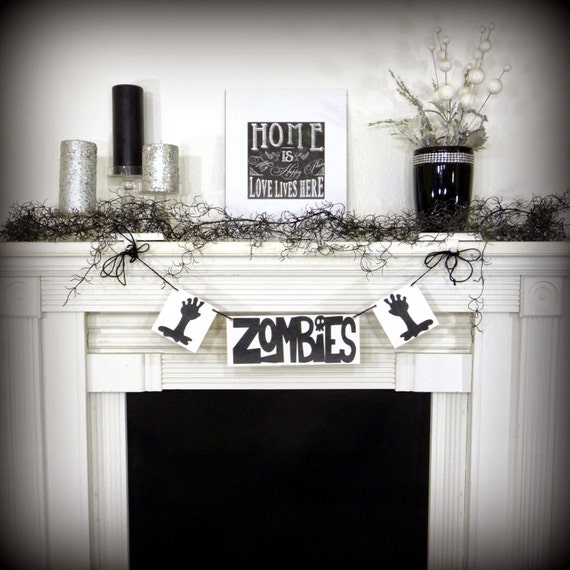 Zombies Sign - Walking Dead -
This Banner is created with WHITE Chipboard Panels. BLACK Letters are attached securely to the square Panels. This Banner Features a Zombie Hand on each side of the "Zombies" word and is strung together with BLACK Twine.
Decorate with Zombies Everywhere!
Halloween Zombie Garlands
Halloween Zombie Wall & Door Signs
-------------------------------------------------------
Here are More Halloween Banners by Theme!
"Happy Halloween" Banners
Halloween "Boo" Banners
Halloween "Trick or Treat" Banners
Halloween "Spooky" Banners
Halloween "Eek" Banners
Halloween "Happy Haunting" Banners
"Eat, Drink & Be Scary" Banners
"All Hallows Eve" Banners
Halloween "Haunted" Banners
Halloween Spider Banners
Halloween Witches Banners
Halloween Zombie Banners