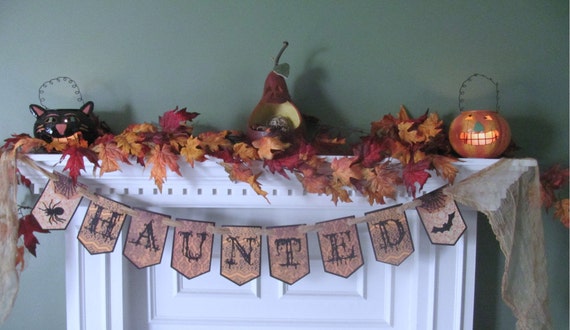 Victorian Inspired HAUNTED" Halloween Banner featuring Gothic Style Lettering with Spiders & Bats
Aged Victorian damask papers add a vintage look to this "HAUNTED" halloween banner. Lettering is done in a Gothic font and cut from quality card stock to add an ornate look to banner. Banner is strung on cheesecloth that has been hand-stained and scorched for an aged, spooky quality. Hairy spider and bat anchor banner. Banner panels are 41/2" x 61/2" and are constructed of heavy weight card stock. Banner is quite durable and may be used year after year. Banner is approximately 41/2 ft long.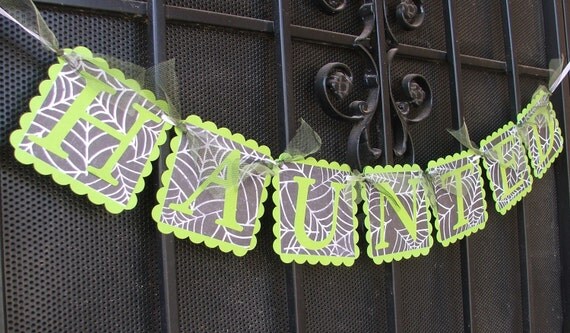 HAUNTED Halloween Banner - Lime Green & Cobweb Hanging Garland - Halloween Party Sign
This adorable banner is the perfect display for any Halloween party or holiday decor!! This banner is created with lime green card stock scalloped squares that measure approx. 4.5" x 4.5" each. Each square is decorated with spiderweb patterned paper and lime green lettering to read, "HAUNTED" The banner is hung with white ribbon with an additional 12" of ribbon are tied on each end for hanging purposes. Black and lime green tulle knots decorate each square.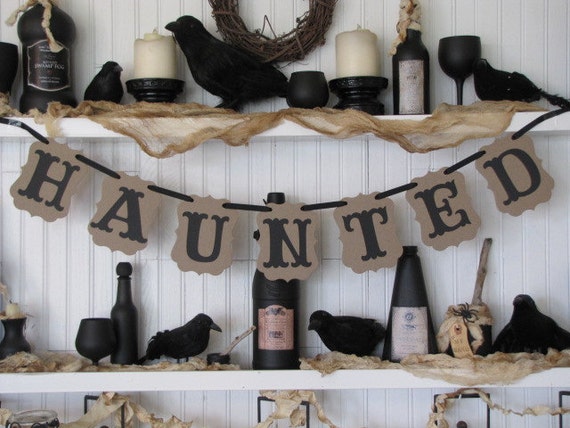 HAUNTED Halloween Banner
HAUNTED! Just what you want your house to look like during the Halloween season! This banner is made on thick, kraft (tan) chipboard (4x5") and has black cut out letters affixed on top. Black ribbon is strung though and is treated on the ends to prevent fraying. Banner is about 33" long and can be easily hung with tape, tacks, or tied up. Sturdy enough to use year after haunted year.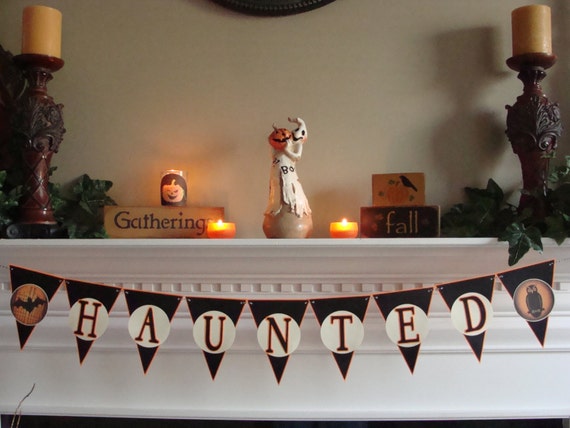 Halloween Banner - HAUNTED #8
Halloween Banner - HAUNTED This Halloween Banner is such a Festive Way to Decorate for Halloween! Its Perfect for Your Halloween Party on the Big Night! ..... Just Hanging this Banner will get You Ready for the Night! .... This Banner can Simply hang anywhere You like - Looks Great on the Mantle! This Banner has been made of Custom Printed Cardstock with added Double Layer Letters and backed with Orange Single Point Pennants End Pennants Feature Bats & Owls! Pennants Pulled together with Black & Ivory Cording - Approx 12" each side .......... Each Pennant is 6 Inches Tall X 45 Inches Wide - 9 Pointed Pennants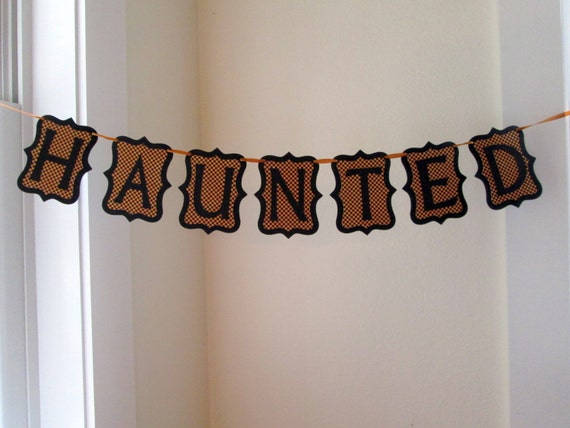 Haunted banner
Haunted Halloween banner is in stock and ready to ship. This banner spells out HAUNTED in black card stock letters on black and orange print card stock on black card stock shaped panels. It is strung on antique gold satin ribbon. Sophisticated enough for any adult Halloween party but appropriate for any age. A nice addition to your Halloween or Fall decor.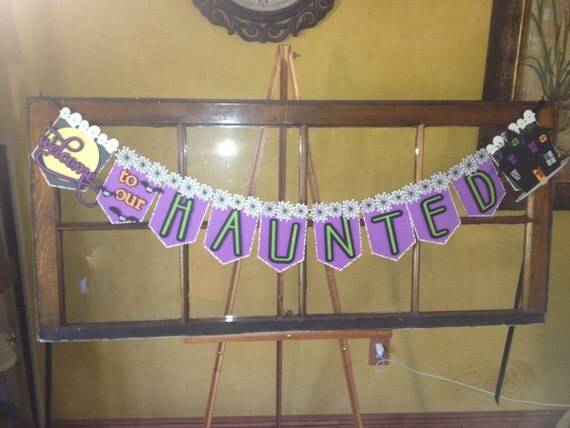 Welcome to our haunted house homemade cardstock banner
Handmade Halloween banner. Perfect for any mantle or shelf. Made from thick cardstock and my Silhouette, along with dimensional adhesive giving areas a pop!! This is a Miss Kate Cuttables design with my own touches and vision, cut using a Silhouette machine. Thank you for looking!
Are You Looking for
Halloween Haunted Wall & Door Signs
?
-------------------------------------------------------
Here are More Halloween Banners by Theme!
"Happy Halloween" Banners
Halloween "Boo" Banners
Halloween "Trick or Treat" Banners
Halloween "Spooky" Banners
Halloween "Eek" Banners
Halloween "Happy Haunting" Banners
"Eat, Drink & Be Scary" Banners
"All Hallows Eve" Banners
Halloween "Haunted" Banners
Halloween Witches Banners
Halloween Zombie Banners