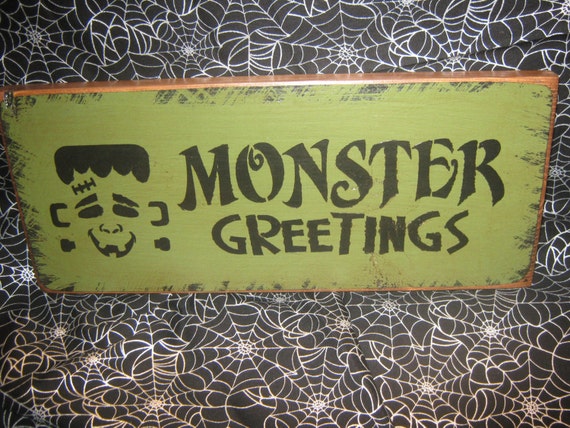 Frankenstein Monster Greetings " Bats Country Rustic Folkart
You are viewing a brand new Halloween Holiday Sign design....hand painted by myself.....Wooden Sign says..." Frankenstein Monster Greetings ".....Made from 100% white pine and distressed and protectively sealed for indoor or undercover outdoor use...but NOT in direct Elements of weather. Measuring approximately 13" long X 5 1/2" high. Will also come with a sawtooth hanger on the back for hanging..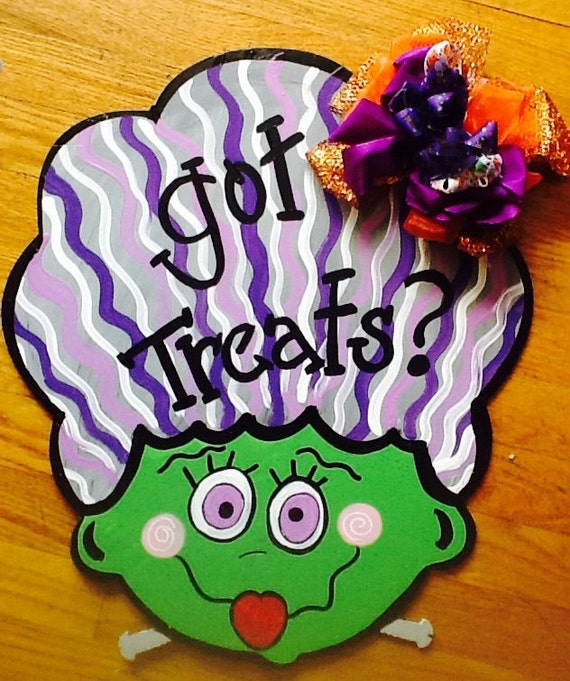 Halloween signs
This bride of Frankenstein sign is a great piece to put on your door for halloween. It is painted on laser cut wood with high quality acrylics and sealed with a shimmery finish for protection. It comes in a variety of sizes ranging from 12"-23" The pictured base is a 23" inch.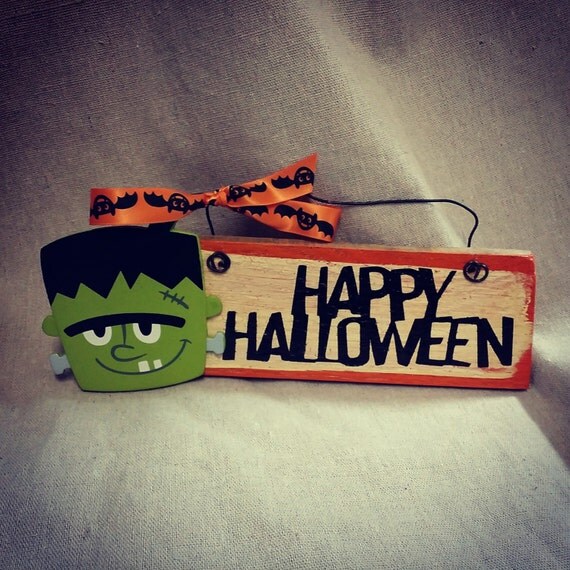 Frankenstein hand painted wooden sign door hanger
This cute little guy is hand painted and has a little wooden store-bought Frankenstein attached to him , painted with some crackle paint and stenciled black letters- just adorable and ready to hang on your door! he measures all of 9"x 3" not including the wire. Tied with some random Halloween ribbon at the top. NO TWO are ever alike and is a limited item.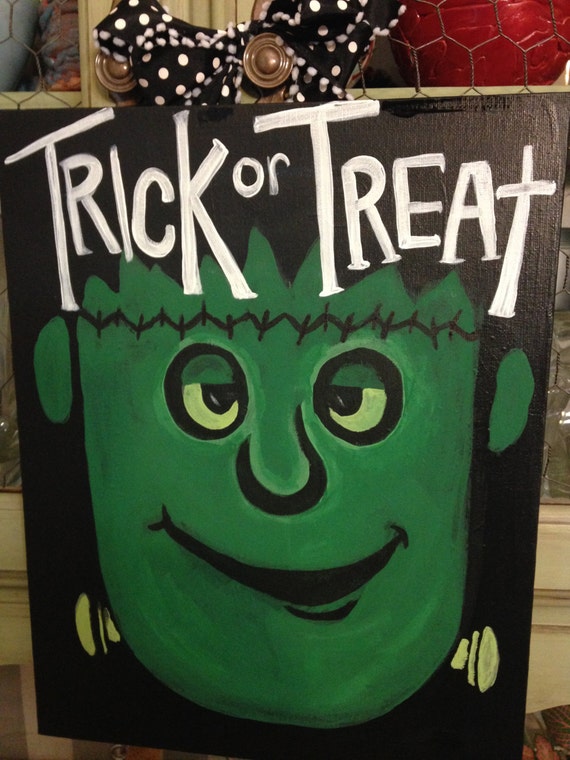 Halloween Monster Frankenstein
Get ready for Halloween with this spooky (kinda) art. 11 X14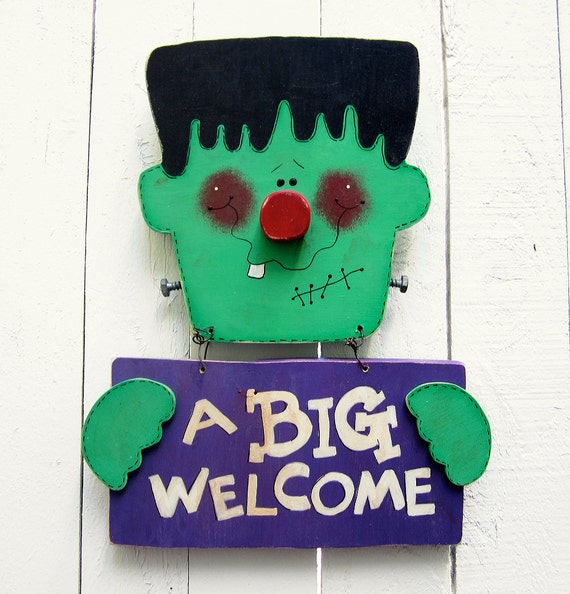 Frankenstein Decor Halloween Decor Painted Wood Yard Art Yard Decor Lawn
Whimsical Frankie greets your guests with "A Big Welcome!" With his big round nose and goofy grin, you can't help but smile when you see him. Painted in greens and purple, black, burgundy and cream, with line work details and of course - those Frankenstein bolts. Antiqued and sanded for an aged look. Sealed for indoor/outdoor use. Available as a door hanger or yard sign! Please choose when ordering. The door/wall hanger will have a sawtooth hanger on back, the yard sign will have an attached stake and raffia bow. Frankie, nose and sign are 3/4" Pine. Hands are 1/4" Birch. Measurement: 14" x 10 1/2" . Yard Sign: 36" tall.
-----------------------------------------------------
Here are more Halloween Hanging Wall & Door Signs by Theme:
Halloween Wall & Door Signs
"Happy Halloween" Wall & Door Signs
"Trick or Treat" Wall & Door Signs
Halloween "Eat, Drink & Be Scary Signs
Halloween "Boo" Wall & Door Signs
Halloween "Beware" Wall & Door Signs
Halloween "Eek" Wall & Door Signs
Halloween "Hocus Pocus" Wall & Door Signs
Halloween Haunted House Wall & Door Signs
Halloween "Spooky" Wall & Door Signs
Out of Candy & Treats Door Signs
Bats Wall & Door Signs
Black Cats Wall & Door Signs
Cute Ghosts Wall & Door Signs
Frankenstein Wall & Door Signs
Jack O Lantern Wall & Door Signs
Mummy Wall & Door Signs
Spiders Wall & Door Signs
Vampire Wall & Door Signs
Witches Wall & Door Signs
Werewollf Wall & Door Signs
Zombies Wall & Door Signs