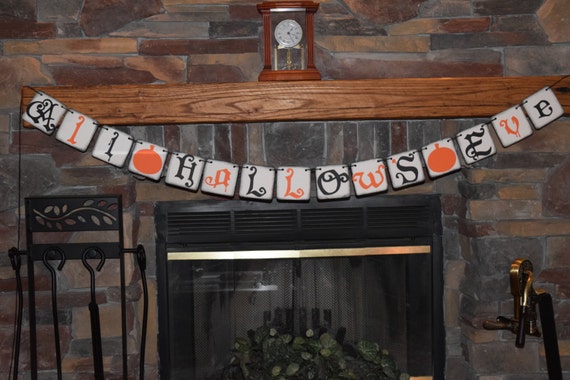 Halloween Banner, All Hallows Eve Banner
This All Hallow's Eve Banner will be the perfect addition to your Halloween party! Looks great hung on your fireplace mantle, on the wall, over a doorway, on the front of your party table or anywhere else you like. Also makes for a cute Halloween photo prop! This Halloween garland is made with orange and black quality cardstock letters in spooky fonts and the letters have been firmly glued on 4" white chipboard. The banner is strung on black twine with plenty of extra twine left on the ends for easy hanging. The letter cards slide easily on the twine. The chipboard cards have been distressed with black ink.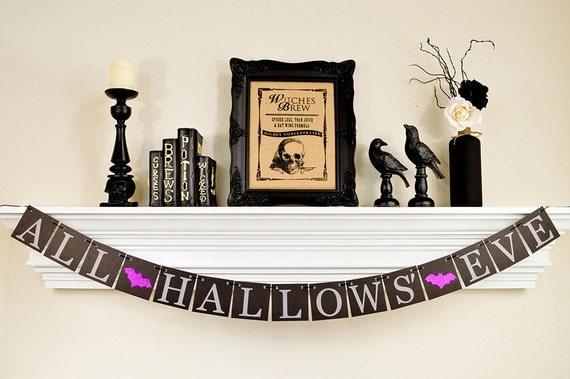 Halloween Banner, All Hallows Eve, Happy Halloween Banner
Our Halloween Banner "All Hallows Eve" banner is perfect for a Halloween Party and your Halloween Decorations. This All Hallows Eve banner was made with: 1. Black 4"x4" Chipboard 2. Cardstock Letters in Grey 3. Bright Plum Glitter Bats 4. Black Jute Twine 5. Banner length is about 36" long depending on how you space each board!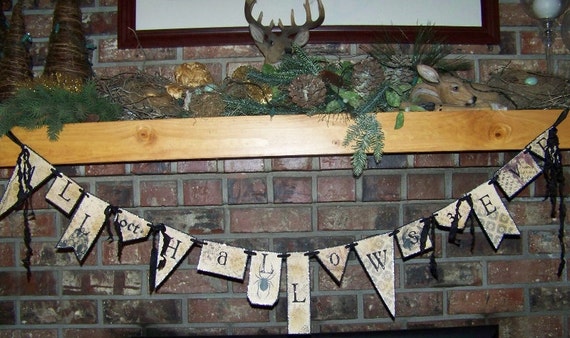 Halloween Banner Garland All Hallows Eve Banner Sepia & Black Vintage style
All Hallows Eve banner for Halloween in tones of sepia and black, accented with silver glitter, black glittered letters, and my own Black Cat crinkled seam binding ribbon. There is a spacer pennant between the words decorated with glittered oct and 31. Total length is approx. 51-52" and the longest of the varied pennants measures approx. 7" I love all the different shape banner pieces in this one.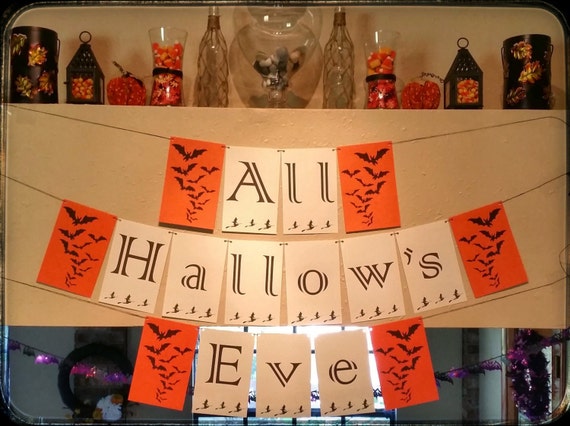 Custom Halloween Party Banner (All Hallow's Eve!) with Witches and Bat Artwork
Here's a Halloween banner made to order for your ghoulishly elegant Halloween party! Let me design an elegant and decorative banner for your theme. Alternating colors make this banner pop with your choice of colors (orange, yellow, green, purple, linen, or white). Make your guests frightfully green with envy. Maximum Characters: 16 (including spaces) - i.e. 'Happy Halloween' 'Hocus Pocus', 'Cauldrons Bubble', 'Trick or Treat', 'Witches Brew', 'All Hallows Eve' Dimensions: 5.5 x 8" per sheet, approx 30 x 51" Total
-------------------------------------------------------
Here are More Halloween Banners by Theme!
"Happy Halloween" Banners
Halloween "Boo" Banners
Halloween "Trick or Treat" Banners
Halloween "Spooky" Banners
Halloween "Eek" Banners
Halloween "Happy Haunting" Banners
"Eat, Drink & Be Scary" Banners
"All Hallows Eve" Banners
Halloween "Haunted" Banners
Halloween Witches Banners
Halloween Zombie Banners