iPhone Halloween Apps
Halloween! - Schatzisoft
Description
Trick or treat?
It's Halloween time and the perfect opportunity to get in the Halloween mood. Do you want to know how many days until Halloween, play scary sounds to frighten your friends, pick the perfect costume, know Halloween trivia? If so, you are in luck.
FEATURES: - Halloween countdown with high quality sounds! - Awesome Halloween handpicked soundboard! - Halloween trivia! - Even a Halloween Flashlight! - Beautifully designed interface! Don't be scared, put 'Halloween!' in your pocket this October!
My Review: I downloaded it and saw that it has 4 screen shots.
The first screen shot gives you a Halloween Countdown. The background has a Halloween scene with bats and a Haunted House. The countdown is a red blood-dripping number. It's cute.
The 2nd screenshot was sounds (you can see it in the image above).
The 3rd screenshot screenshot was trivia.
The 4th was a Halloween Flashlight (screen only, it didn't actually activate the flashlight on the phone)
Overall, I think this is a fun, user friendly app. It keeps you busy with some interesting tidbits of information and you can have fun with the creepy sounds but I could have done without the flashlight. I thought that was a pointless option. Maybe instead they could have used Halloween Lists? That would have been cool.
iPad Apps
Halloween City - Zia U
Welcome to Halloween City. Your favorite Trick-or-Treat time of the year has come again. And Now you can have your own Halloween-themed City! Decorate your city with lots of Amazing Halloween Characters including Witches, Vampires, Pumpkins, Monster Plants, Werewolves, Mummies, Zombies etc. Check out the Spooky Houses and Ghost lairs. It's a fun way to celebrate the Halloween. Try different cross-breeds of the characters and be amazed to see the results. Collect coins to level up and unlock more items. Take pictures of your city and share it with your friends. Features: - Hundreds of Fun animated Characters - Halloween-themed Visitors - Amazing Cross-breed Results - Easy interactive tutorial - Unlock different characters in each level.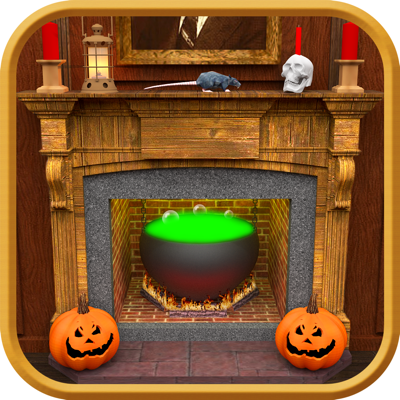 Haunted Halloween Escape - TeraLumina Games
Description Turn down the lights and turn up the sound for this creepy Halloween night room escape game. On a terrifying Halloween night, you're trapped in a haunted room filled with pumpkins, bats, spiders, ghosts, skeletons, rats, vampires, a bubbling cauldron and more. Can you escape from this room of horrors and keep your wits about you? In this scary room escape game, find and use various items and solve puzzles in order to find a way out. Find all the bats for a higher score. Good luck and have fun! Check out all our free room escape games: - Diamond Penthouse Escape 1 - Diamond Penthouse Escape 2 - Sapphire Room Escape - Ruby Loft Escape - Emerald Den Escape - Emerald Den Escape HD
Halloween Spooky Sound Box Free - Cookie Balloon LLC
Description Turn down the lights and turn up the sound for this creepy Halloween night room escape game. On a terrifying Halloween night, you're trapped in a haunted room filled with pumpkins, bats, spiders, ghosts, skeletons, rats, vampires, a bubbling cauldron and more. Can you escape from this room of horrors and keep your wits about you? In this scary room escape game, find and use various items and solve puzzles in order to find a way out. Find all the bats for a higher score. Good luck and have fun! Check out all our free room escape games: - Diamond Penthouse Escape 1 - Diamond Penthouse Escape 2 - Sapphire Room Escape - Ruby Loft Escape - Emerald Den Escape - Emerald Den Escape HD