Here's another great use for a drill gun - decorate your Pumpkin with drilled holes! This technique is great because the drill gun makes neat and tidy little holes and allows you to make very pretty pumpkins in a short amount of time. Drilling your pumpkin isn't as messy as carving it out so that's another great plus. There are many designs and patterns you can make with this pumpkin carving method. I'm not sure if Martha Stewart coined the term Celestial Pumpkins, but I think that's a good name for these types of pumpkins. They seem out of this world.
1. Drilling To Make Celestial Pumpkins
Drilled Pumpkin Tutorial
- These Drilled Pumpkins don't require drawing, But if you don't have an eye for drilling and you would like to know where the next hole will be placed, it's good to draw your holes first. This is an excellent tutorial on drilling your pumpkins
Drilling Words on your Pumpkin
BOO Pumpkin Drilling
- You can be a total minimalist and just have the pumpkin scare the kids with the word, "BOO" on it. It's sweet, simple and it says everything you need it to say.
White Corset Pumpkin
- Oh yes, let's make your pumpkin sexy this year with this cute Corset design using drilled holes.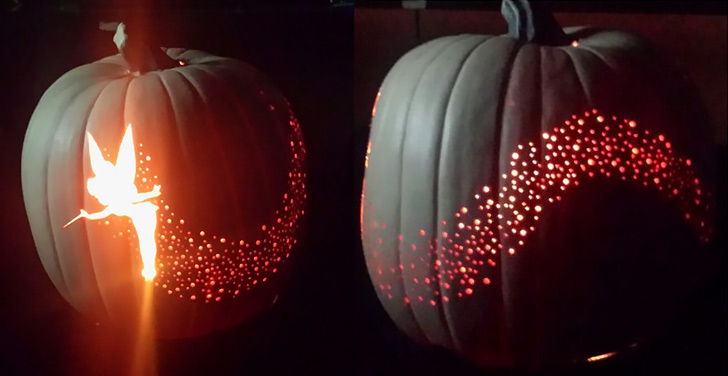 Tinkerbell and Fairy Dust Pumpkin Drilling Tutorial
- This tutorial is very magical and sweet as a decoration. It's not very Halloween, but it's great if you love Disney.
Doily and Pumpkin Drilling Tutorial
- I like this tutorial because it's a unique way to add a chic cottage look to your halloween decor.
Butterflies and Drilling
Butterflies are pretty and are a perfect theme for a garden. The colorful butterflies would be a great decoration for the daytime and when the sun starts to go down, the drilled holes surrounding outlining them in a whimsical fashion is simply magical.
Cross Stitched Pumpkin Drilling Tutorials
You can drill holes for cross stitching. This will add texture to your pumpkin and will add that personal touch.
Floral Pumpkin Drilling Tutorial
Beautiful Fresh Flower Tutorial for such a beautiful display.
Pumpkin Drilling Party Lantern
- This is a lantern created to hold. What a cool idea to use if you're halloween camping !