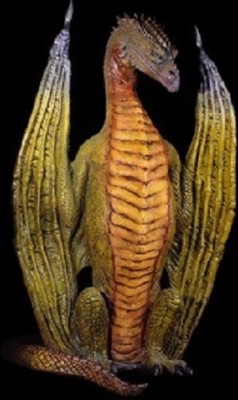 $9,500 - 8 foot fire breathing dragon animated halloween haunted house prop watch video
- THESE ARE MADE TO ORDER CAN TAKE 2 TO 3 WEEKS TO COMPLETE An outstanding automated showpiece at a great price. When the switch is thrown, head turns, mouth opens, smoke pours out, and dragon roars. Terrific for store windows. Can be activated by optional pressure pad, motion sensor or timer. Includes fog machine, tape player, tamp and amp with speaker. This unforgettable product will amaze children and impress adults. Approx. 8' tall. Requires 100 psi air compressor and standard AC power. Freight shipping. Watch the Video Below!

$8,995 - Electric Chair Animatronic Halloween Haunted House Prop
- This product has shocked the nation since its debut a few years ago. The violent movement and loud screams have startled and amazed. This high energy centerpiece is intended for haunted houses. Unit is supplied with a fog machine, par can light, powerful strobe light, tape player, high volume amp and speaker, tape of screaming and electrical sounds, motor with gear reducer, rigging, metal base and wooden chair. Ships via truck.

$8,195 - Shake N Bake Animatronic Halloween Haunted House Prop
- Movement in 2 phases : insane thrashing and high speed vibrating. Due to the violent movement, the chair is constructed out of entirely welded metal. Smoke is channeled through the metal coming out at the hands and feet. The switch is thrown and screaming, thrashing, smoke and the sound of electricity assaults the senses. Includes real industrial electrical switch mounted on base with stand, beacon light, tape player, tape, fog machine, amp with speaker, and all necessary cords. Requires A/C power and 125 psi air compressor. The chair is 30" WIDE 51" DEEP

$7,897.50 - GORILLA PROP
- Approximately 7 feet tall. Extremely realistic. Hand applied over entire body. Foam filled latex with metal base and armarture. Approx. 7 feet tall on a stand. NOT TO BE WORN! Must ship by truck. Extra crating fee applies.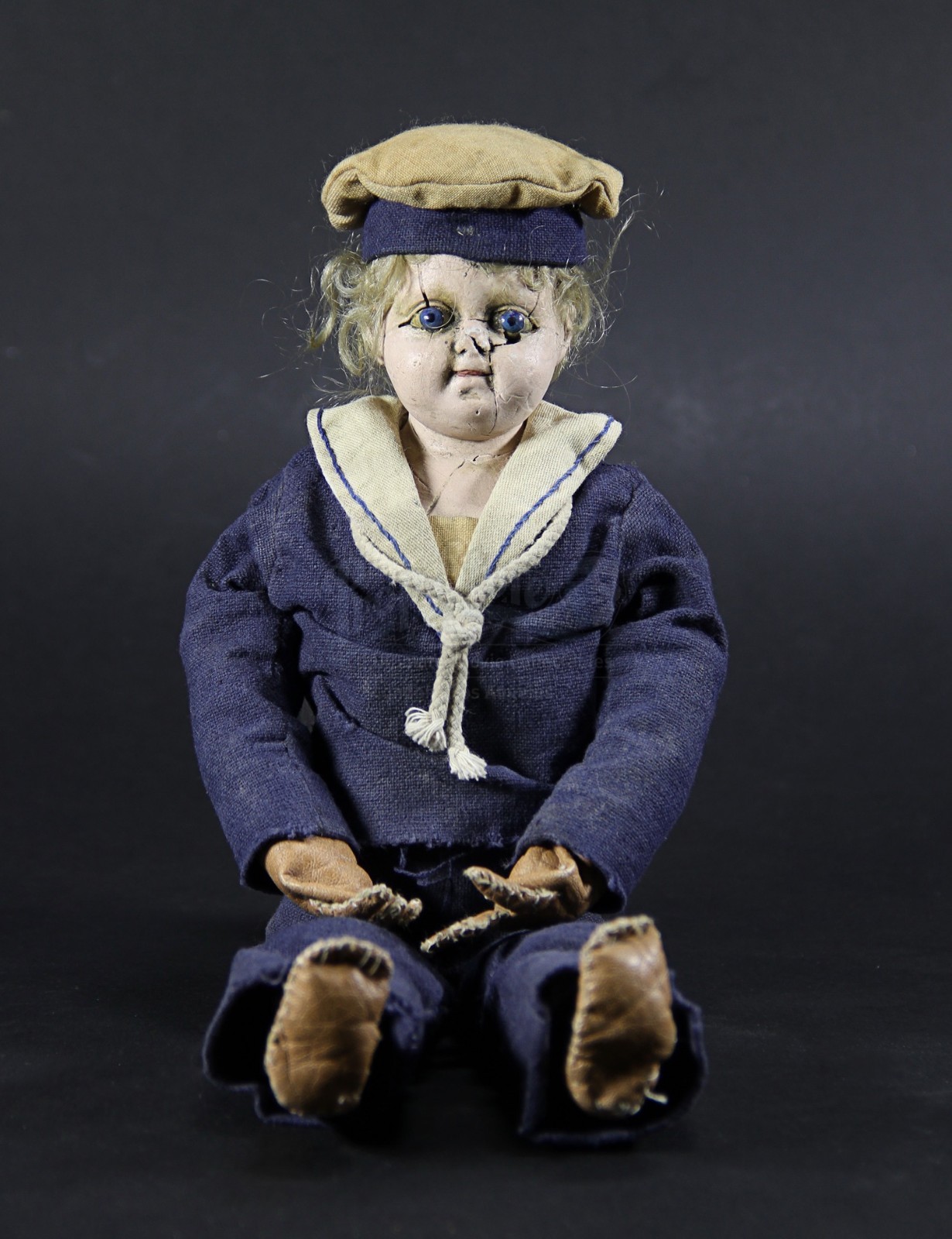 $7,995.00 - THE WOMAN IN BLACK 2 SCREEN USED HAUNTED MOVIE PROP PUPPET DOLL HORROR HALLOWEEN
- May we present: The Woman in Black 2: Angel of Death Once in a Lifetime opportunity!!! Featured One-of-a-kind Original Screen Used Hero Movie Prop "Creepy Sailor Doll" This very doll was the only one made and used in the production of Tom Harper's Horror-drama, "The Woman in Black 2: Angel of Death". This sequel is one of the most creepy haunted time period movies ever, that takes place forty years before the original haunting at Eel house. A group of children are evacuated from World War ll London and ultimately awaken the house's dark, ghostly inhabitant. This doll was featured and carried through out most of the film by Edward (Oaklee Pendergast) after he discovers it in Eel house nursery. The doll is dressed in a navy sailor's uniform with a white collar and cap. The hands and feet appear to be stuffed inside brown leather gloves and boots. The dolls face, arms and calves appear to be made out of porcelain and the body form in sort of a sand bag. The face was deliberately distressed for the production use to make the doll vintage in age. It remains in excellent production-used condition and measures approximately 13.5" x 5.5" x 2.5" (34cm x 14cm x 6cm) This prop is an original asset used in production of the 2015 film The Woman in Black 2: Angel of Death. The asset was made available through a partnership between Propstore of London and Exclusive Media and will come with an official coa from Propstore of London. This is NOT a replica, but an original one of a kind piece that has been 100% screen matched from many close up screen shots. Will entertain serious offers or trades. Payment plans available.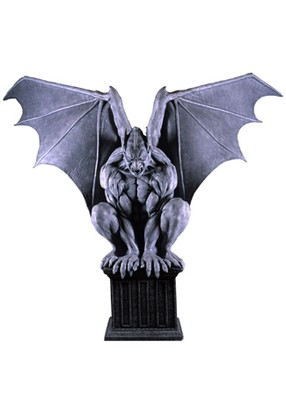 $5,000- 8 foot tall Gargoyle halloween haunted house animated prop 14 foot wingspan
-This large 8 foot tall latex and foam display has a wingspan of approximately 14 feet. Wings can be positioned and a tube is embedded in the foam to the mouth so you can add your own fog effects. Supported by a rugged metal armature and base. Special order. Must ship by truck. Extra crating fee is included in price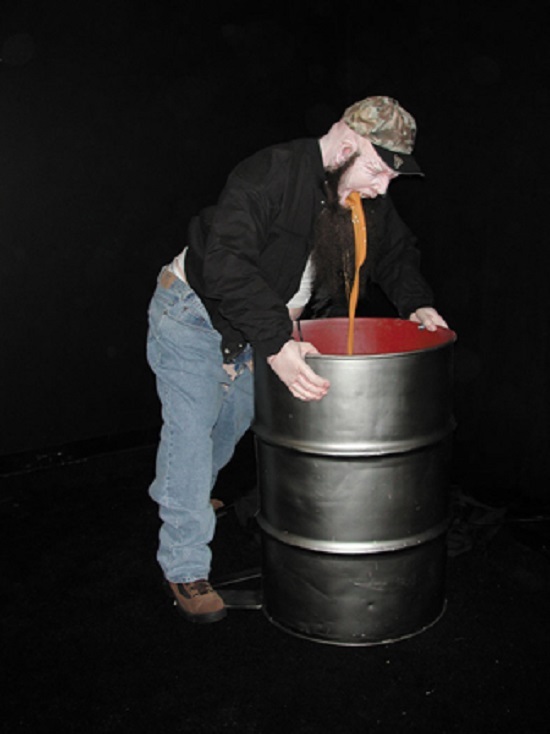 $7,000.00 - life size trucker Joe Spew animated Halloween Haunted House Prop
- Focusing on one of the body's more repugnant functions; the New Spew brings animation and elimination together. Digital audio synced to dry heaves and the final eruption creates an effect that will stay with your guests for days. Realistic chest and head movement and a powerful pump to create the effect. Includes digital sound, water thickener, colorant and amplifier with speaker. Unit cycles continously in approximately 1 minute intervals ( so no actor or device is needed to activate). Requires A/C power and 100 psi air compressor.

$6,895.00 - Halloween Decor Spectacular 13" Black Bat Skull with LED lights Home Decoration
- Halloween Decor Spectacular 13" Black Bat Skull with LED lights Home Decoration LED effect No assembly required 13 in. L x 12 in. W x 12 in. H (5 lbs.) This eye-catching bat skull figurine is one of its kinds that would hold its own special place into your home interiors. Above the skull, a bat pattern is crafted covering the skull upper side. LED lights are fixed into the eye pattern of the skull that illuminate and spreads vibrancy in the ambience. With this unique figurine you can offer your home that charm with minimal efforts. You can display it anywhere in your space like drawing room, passage, lawn or patio. This amazing LED Bat Skull figurine would surely hold astonished attention of guests and visitors. Close ones who appreciate such creativity can be suggested to opt for this figurine which they can include into their collectibles. It is worth owning. So hurry; dont miss the chance of getting it for your abode.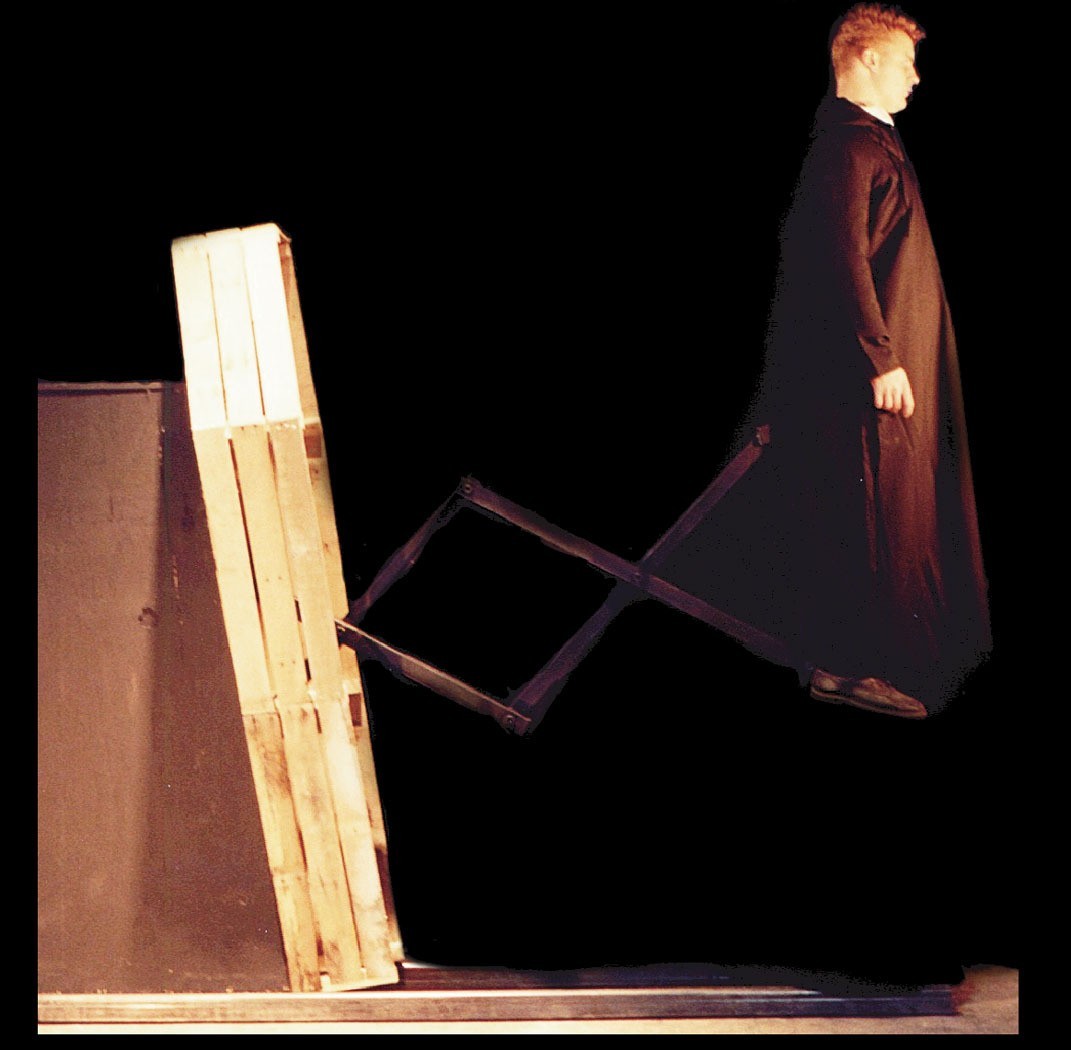 $6,193.90 - Actorvator Halloween Prop Animated
- Actor is pneumatically propelled on scissor mechanism 5' out and 3' up from standing position inside clapboard coffin. Unit includes - casket, stand, steel chasis with mechanism, pneumatic package and grip switch. Requires AC power and a 100-125 PSI air compressor (not included). Must ship by truck. Extra crating fee applies.

$6,075.00 - BATMAN PROP FIBERGLASS
- The Caped Crusader is here again. Full size fiberglass prop, measuring 6 foot, 9 inches tall including base. Fabric cape, left hand holding a Bat-a-rang. Individually hand produced and painted. This is a true collector's item!

$5,999.99 - CREEPY THE CLOWN ANIMATED HALLOWEEN HAUNTED HOUSE LIFESIZE PRO QUALITY PROP
- Creepy The Clown This Creepy Clown is casually leaning against a llamp post, the light flickering, then raises the balloon to his mouth and begins to blow the huge balloon up. When the balloon obscures his face, his head turns 180 degrees and suddenly, the Clown turns creepy. As the balloon is lowered guests are hit with a blast of air. Includes lamp-post with flickering light, costumed animated clown and an extra supply of balloons. Operated by included switch or with optional motion sensor, pressure pad or timer box. Clown faces shown in photo may vary. Requires AC power and a 100-125 psi air compressor (not included) Must ship by truck. HEAVY ITEM

$5,062.50- FLYING WITCH + Crate Chg
- Cackling wench launches with a burst of smoke and a blast of energy. Sure to bewitch your guests. Allow 11 ft height and 10 ft length for operation. Requires A/C power and a 100-125 psi air compressor, not included. Must ship by truck. Extra crating fee applies.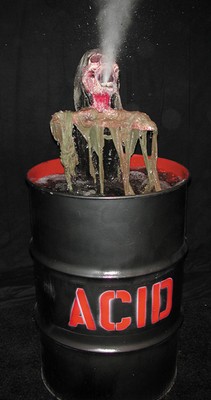 $5,001.75- ACID SPITTER ANIMATED PROP
- The surprise of something coming out liquid is superseded by 'the Acid Queen' spitting water at your guests with a blast of air. Water effect can easily be changed from a fine mist to a wet splash. Includes green DC voltage fountain light to color the water from inside the barrel and a variable bubbler to complete the boiling acid effect. The Acid Spitter is a gag your guests will enjoy and remember. Character is made from a solid durable resin. Requires AC power and a 100 psi air compressor. Can be triggered by the included switch or by optional pressure pad or motion sensor.

$4,200- OOAK Life Size EDGAR ALLAN POE Prop by Artist D.L. Marian
- ONE OF A KIND EDGAR ALLAN POE BY ARTIST D.L. MARIAN FRESH FROM THE CREEPER GALLERY WINDOW IN NEW HOPE, PA. THIS POE PROP HAS ALL OF HIS ACTUAL PHYSICAL ATTRIBUTES INCORPORATED INTO A LIFE SIZE SITTING FIGURE. SCULPTED FACE. GENUINE PERIOD CLOTHING IN THE CONDITION HE WOULD HAVE WORN. I HAVE INCLUDED A FAUX BOOK AND PEN, AS WELL AS A BLACK TAXIDERMY CROW PERCHED ON HIS SHOULDER. TO QUOTE A GENTLEMEN FROM THE EDGAR ALLAN POE MUSEUM IN THE BRONX NYC "HE IS THE BEST REPRESENTATION OF POE WE HAVE SEEN". NO SHIPPING ON THIS PIECE. YOU MUST ARRANGE PICK-UP IN NEW HOPE.

$2,709.45 - HANGING VAMPIRE
- Life-sized foam filled latex. Metal armature that sticks out feet for hanging. A very impressive piece. Intricately sculpted and painted. 5' 4" tall. Special order. Must ship by truck. Extra crating fee applies. Special order.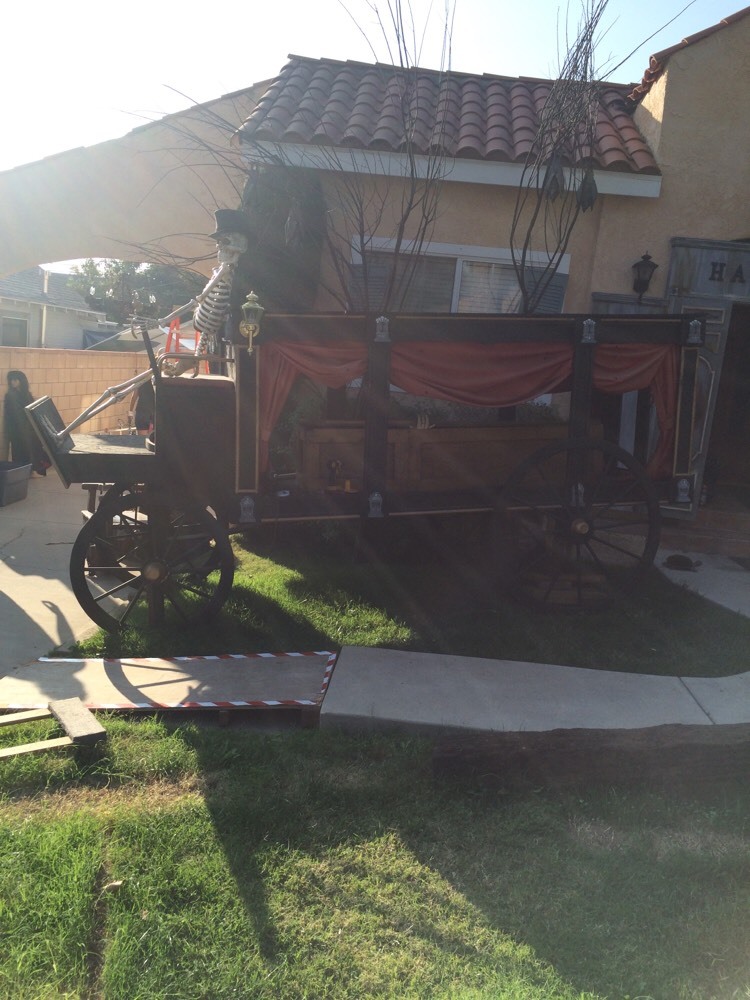 $2,600.00 - Halloween Hearse
- Hand made horse drawn funeral carriage. Made for Halloween.
$130.00 Life-Sized Lurching Werewolf Animated Prop
- He is 72" tall with and his head moves from side to side, he lunges forward at you and his arm raises up to grab you Then he tilts his head back and howls at the moon Prop has tattered shirt and pants, great sculpted head, hands, and feet, light-up eyes and a scary sound track that will give you goose bumps The sturdy metal frame has motors attached. UL adapter and IR sensor with Step Here pad are included. Functions include: Steady-On, Try-Me, and Sensor modes. Recommended for indoor or covered porch use only. 72" tall This Werewolf animated character is a must have for any of your Halloween events
$109.75 - Zombie Clown Animated
- 6 foot tall Zombie clown character with metal frame, slush-PVC head and hands, blow molded chest ribcage, synthetic hair, fabric costume, motor that slowly raises & lowers one arm while torso slowly rocks from side-to-side & head turns from side-to-side; motion sensor activated green LED light-up eye with painted PVC plastic cap, with creepy sounds; Fabric shoes. Right hand is holding a balloon or whatever prop that you may have flowers, cotton candy, ect