Beistle Felt Trick or Treat Streamer, 7-Inch by 4-1/2-Feet
- This item is a great value! 1 per package Halloween party item Jointed Streamers for festive occasions High Quality
Happy Halloween Streamer, 10-Inch by 6-Feet
- This item is a great value! 1 per package Halloween party item Jointed Streamers for festive occasions High Quality

Halloween Banner / Spider Banner
With spiders that "pop" off the banner and glittery spider webs this banner is the perfect accessory to any Halloween decor! Each banner section measures approximately 3.5" wide by 5" high. The total length of the banner is approximately 40".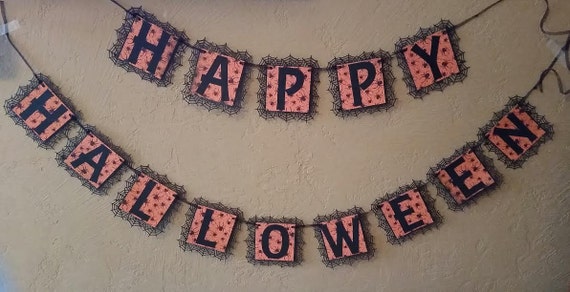 Spooky Spider Halloween Banner, Spider Banner
This Spooky Spider Halloween Banner will sure to have your party goers screaming with delight! This order is for a Spider Halloween Banner. It is made of high quality, acid free, lignin free cardstock. The colors are Orange and Black with Black Tulle Ribbon. This is actually 2 Banners for the price of 1. However if you would like it to be 1 long banner I am able to do that too. At the time of check out in "Notes to Seller" please be sure to specify your request.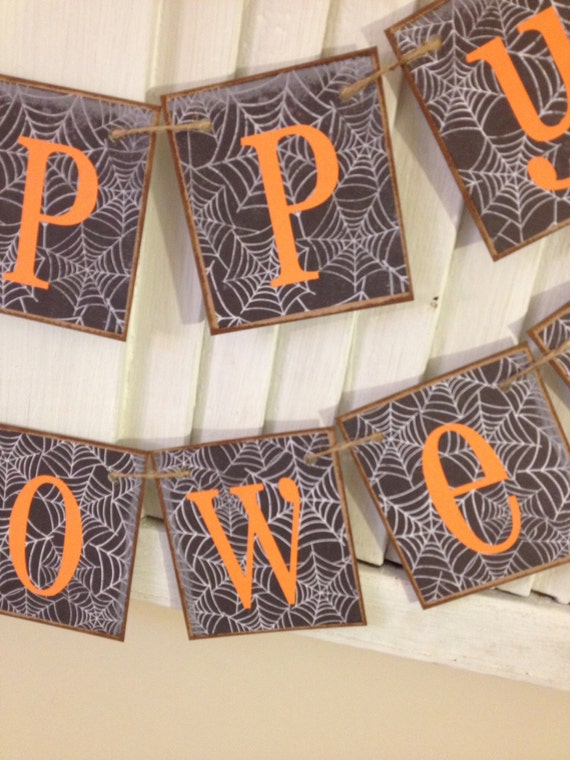 Halloween Banner Bunting Garland with Spider Webs Orange and Black
Happy Halloween with Spider Webs. This darling banner is made with 4 x 4.5 inch black spider web cards with orange letters permanently bonded to each card. The banner comes assembled and ready to hang. It also folds easily for storage. It is durable enough to use over and over again and yet lightweight enough to hang with just household type, thumb tacks, etc...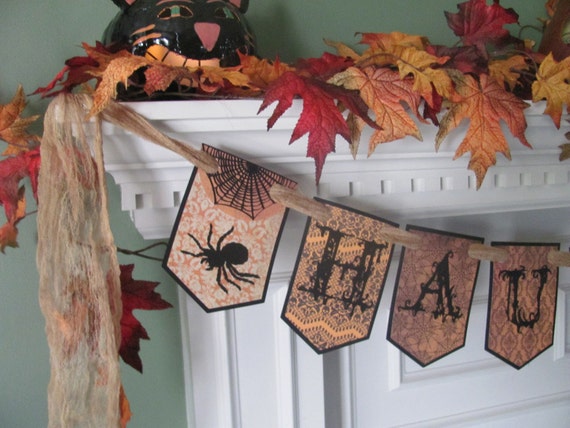 Victorian Inspired HAUNTED" Halloween Banner featuring Gothic Style Lettering with Spiders & Bats
Aged Victorian damask papers add a vintage look to this "HAUNTED" halloween banner. Lettering is done in a Gothic font and cut from quality card stock to add an ornate look to banner. Banner is strung on cheesecloth that has been hand-stained and scorched for an aged, spooky quality. Hairy spider and bat anchor banner. Banner panels are 41/2" x 61/2" and are constructed of heavy weight card stock. Banner is quite durable and may be used year after year. Banner is approximately 41/2 ft long.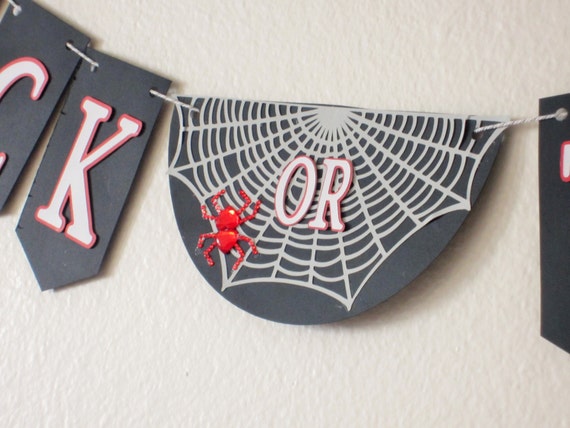 Trick or Treat - Halloween banner
This haunting "Trick or Treat" banner, featuring a red crystal spider and spider web flag, is made from vibrant card stock paper. This is great for a Halloween photo session or to put out at your party! Each banner piece is 5 inches long, so overall the banner is nice and large, making the letters easy to see in pictures. There are red crystals for added shine. The banner comes with the gray and white string featured in the picture.
Hang Spiders Everywhere!
Halloween "Eek" Banners
Halloween Spider Banners
Halloween Spider Garlands
Halloween "Eek" Wall & Door Signs
Halloween Spider Hanging Party Decor
Halloween Spider Wall & Door Signs
-------------------------------------------------------
Here are More Halloween Banners by Theme!
"Happy Halloween" Banners
Halloween "Boo" Banners
Halloween "Trick or Treat" Banners
Halloween "Spooky" Banners
Halloween "Eek" Banners
Halloween "Happy Haunting" Banners
"Eat, Drink & Be Scary" Banners
"All Hallows Eve" Banners
Halloween "Haunted" Banners
Halloween Spider Banners
Halloween Witches Banners
Halloween Zombie Banners