Here is my idea of what a Joker and Harley Quinn Mantle Setting would look like for Halloween. I think it would be cute to dress as villains and the kids can dress as batman so you can make a game of it.
It was challenging to marry the styles of Joker and Harley Quinn because their colors are so different from eachother. Harley Quinn has a harlequin theme with diamond checkers and her signature colors are red and black. Joker's signature colors are purple and green, kind of like Mardi Gras. The colored glitter pumpkins and neon green pumpkin helped bring the setting together.

Harley Quinn Glasses
- These glasses are awesome. They are designed in the harlequin theme with the diamond pattern and Harley Quinn poses in action.
Lemax 03823 TIP the Tombstone Spooky Town Table Accent Carnival Halloween
- This table accent isn't Batman themed, but I thought it would make a great edition to a spooky carnival. The colors worked well with joker.
Venetian Jester Mask - Simply the most elegant and classic mask designed for anyone to wear to the most anticipated events! Wearing this gorgeous mask will give a stunning and lasting impression of a life time at any events you attend. This is a mardi gras mask which I actually didn't use.
Joker Kite - This WindGarden spiral friend is swivel clip attachment for easy hanging. Available in jester design. This is a pretty cool joker spiral. It would be neat to hang this somewhere by the mantle to add to the decor.
Jester Cup - Jester Goblet. I used this Jester goblet on the little side table by the mantle.
Carnival Decor - TICKET BOOTH Collectible decorative table accent. Retired (out of production). Fits-in with other previously released Spooky Town Carnival rides and accessories. Great decoration for Halloween parties. -This is prt of the Carnival town collection.
Octopus Ride - OCTO-SWING This Lemax 14379 animated Octo-Swing decoration is part of the Spooky Town collection. Retired (out of production). Premium Lemax Spooky Town collectible. Brand-New in box. Great decor for a Halloween party. Musical. Lights. Rotates. This is my favorite piece of the spooky carnival town decor. Love the color purple on the octopus. I made this the centerpiece on the mantle because it has so much movement and color.
Spooky Clown Toss - You have to have a spooky clown at any Joker and Harley Quinn decor kit, don't you?
Halrequinn and Panther Statue - This statue is a wonderful addition to any clown collection. It features a sexy harlequin jester, dressed in red and black, posing with her black panther. Made of cold cast resin, it measures 9 inches tall, 6 1/2 inches long, and 4 1/2 inches wide. It is hand painted and shows great detail, from her fine facial features to the texture of the panther`s skin.
Harlequinn on a Pedastal - Fairies are magical characters, but harlequin fairies are magical, entertaining and clever! This red, black and white harlequin fairy ponders her next act as she quietly sits upon her pedestal with glass orbs strewn about. This 21 inch high (53 cm), 9 inch long (23 cm), 9 inch wide (23 cm) fairy has been expertly sculpted from cold cast resin and skillfully hand-painted to show all the amazing detail; from her purple and red butterfly wings and ruffled costume to the ornate detailing and stone finish on the pedestal. The bottom has a felt covering to help prevent scratches on delicate surfaces. Though she won`t make a sound, this harlequin fairy is sure to keep you entertained!
Harlequin Pail - Craft Outlet Inc 9"x7.5" Small Black & White Harlequin Tin Pail. This uniquely designed and creative pail works great in any home decor as an accent piece. Craft Outlet Inc is a country and primitive crafts company that has something special for winter, spring, summer or fall. With an extensive product line varying from everyday decor and garden tins to decorative stars, plush and seasonal decor, COI certainly has something for you to accent your home.
Harlequin Candlesticks and Candles - A single, optional remote will control an entire room full of candles (sold separately) Crafted from real white wax, wrapped in harlequin-print vellum, our candles provide all the atmosphere you would expect, without the worry of an open flame
Step Right Up Banner - A decoration sure to give your carnival a sinister start.
Mardi Gras Streamers - Creative Converting Mens Mardi Gras Magic Hanging Swirls. This would work great for Halloween because of the sad faces. Unfortunately, I coudn't find a place to add this to.
Hanging Harlequin Lamp - Material - Wrought Iron Lamping - Candelabra Finish Code Harlequin Bronze - Glass Code: Amber Seeded/White. Everyday decor for those who like Harlequin style.
Martha Stewart glowing glitter - Create eerie, glowing Halloween projects with this Martha Stewart Crafts Glow-in-the-Dark glitter. Apply to project as you would any glitter and then expose to light. Once dark it glows a spooky green. Perfect with our stamps and glue pad.
Neon Green Candlesticks - Candle holders feature a glossy bright green finish Each candle holder holds (1) pillar candle (candle not included) Recommended for indoor use. Every Halloween Decor kit should have neon green candlesticks!
Black Cobweb lighted mantle cloth - Black lace fireplace mantle scarf features spider web design Halloween decoration lights up with orange LED lights attached Mantel scarf measures 18-inch by 96-inch Display on mantle, over interior doorway, hutch, buffet or as a backdrop Fun spooky Halloween decoration and party accessory for year round use
Joker Candy Holder - Includes: Candy holder prop with plastic bowl Candy not included
Harley Quinn Statuette - License:DC Comics Batman Product Type:Premium Format Figure Joker's deranged and bubbly sidekick Harley Quinn Includes her trademark wooden mallet at the ready
Joker Trick Hand gun - This flag expands 6 Inches in length. Sure, it looks like a real gun that is if you happen to be a pirate or an old west gunslinger, but the effect is there until of course you pull the trigger and the classic cartoon flag pops out with the word bang written in big letters.
Inflatable Mallet - 100% Polyester Imported Hand Wash Harley Quinn inflatable mallet
Purple Glitter pumpkin 11" tall
Purple Glitter Pumpkin 8" tall
Batman Costumes for Baby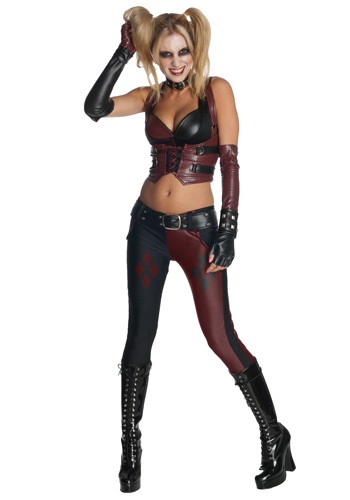 Harley Quinn Costumes for Women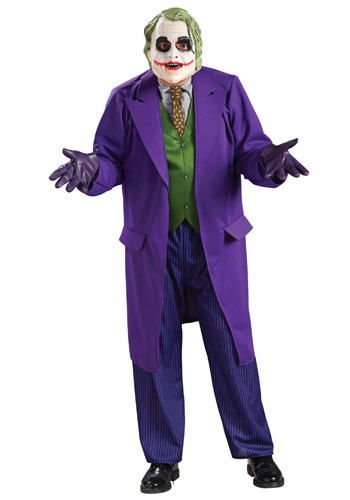 Joker Costumes for Men