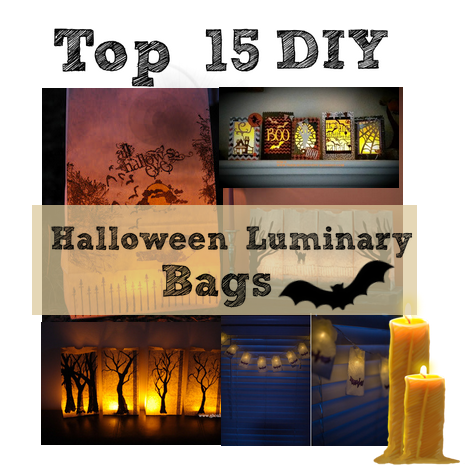 Luminary Bags are very magical to look at in the evening, they're practical because they provide a dim, romantic glow and they're fun to make.
Luminary Bags are basically paper bags with a tea light candle placed inside, but oh the magical creations you can make with these bags is endless! Here is my list of Top Halloween Luminary Bags DIY!
1. Sizzix Die Cuts - Halloween Luminary Bags DIY- This Halloween Luminary Bags DIY uses a square window in the center of the bag and adorned with Sizzix dies. The shapes she used look quite elegant because of the detail in the pattern. She provided useful tips like including sand in the bag so the wind wouldn't knock them down, and she recommended using fake candles. She used cardstock paper for the die cuts and wax paper for the window. If you want a very detailed luminary bag, I suggest using die cuts or a cricut machine.
2. Halloween Luminary Bags DIY - Moveable Monsters - This project was used with the cricut expression Moveable Monsters. You can't see the candle because this crafter used orange tissue paper to cover the hole. These shapes are wonderful because they have such spooky personality to them, and silhouettes are just so eerie, arent' they? Imagine using tissue papers of all sorts of color! I think the orange would give it a special glow.
3. Halloween Luminary Bags DIY - Pumpkin Faces - We all heard about carving pumpkins, but what about carving paper bags? When I was a kid, I loved to design pumpkin faces - thinking about the type of expression my Halloween pumpkin would have, how many teeth in his grin.. it was all about imagination and creativity! Well, you can use that same level of creativity on these delightful Halloween Luminary Bags. Magnificent! A craft knife was used for these bags.
4. Halloween Luminary Bags DIY - Cricut and Halloween Patterned Paper - This Halloween Luminary Bags DIY is a little more complicated but as you can see, the results are amazing. With the use of halloween themed craft paper you can make bags of all sorts of patterns and colors. With the use of the Cricut, you can make magic. This crafter used glitter glaze to accent the spider web. The lights used inside were LED Tealights.
5. Halloween Luminary Bags - Embroidered Luminary Bags - I just love when crafters find new and innovative ways to do things and this crafter really used creativity in hits Halloween Luminary Bags DIY! The windows of these unique luminaries are hand embroidered on light and breezy organza. Extraordinary! The bottoms of these bags were embellished with black fur to add to the design. This crafter used battery operated tea-light candles.
6. BeWitchen Luminary - This luminary can be used as a centerpiece! The stars are amazing. Although this tutorial isn't a Halloween Luminary bag, I decided to post it because I have a special place in my heart for paper crafters and stampers because I am one also. This creative DIY was made with an aresenal of paper crafter supplies like stamps, patterned paper, gell roll pen, water color brushes and pencils. This tutorial is very detailed and provides you with the name of the stamp that was used. If you're a serious paper crafter, than this project is for you!
7. Halloween Luminary Bags DIY - Skeleton Heads printable - A very simple Halloween Luminary Bags DIY, This crafter printed his skeleton heads on light weight calligraphy paper. This is a very fast way to make luminary bags, especially if you need to make lots of them! This crafter provides the free printable in his blog.
8. Halloween Luminary Bags DIY - Purple People Eater - They're not as scary as the name implies, but these luminaries are adorable! If you are decorating for a kids party, these are perfect! It's a very simple tutorial and you can involve the kids after the eyeball shapes are made. The eyeballs are piercing on these little guys! The mouth slit is cute because you can add or subtract as many teeth as you want! Cute! I think adding some elements like hair or ears or little arms would make these Purple People Eaters even more fantastic than they already are.
9. Colorful Luminary - The outlines in this Halloween Luminary Bags DIY were designed by kids. Leave it to their imagination to create spectacular Halloween shapes! The windows were made with red and black tissue paper. Fun! You can use many different colors like purple or how about patterned tissue paper?
10. Felt Cutouts - Another great alternative to use for the window shapes is Black Felt! This is great because the light will not pierce through as much as a thinner paper would, giving a much darker silhouette. This crafter also used flameless candles.
11. Stamps - With various different stamps, and a little color to accent the moon and a few other places, this crafter created many unique Halloween scenes on her white bags. There was no cutting necessary for this project!
12. Black Paint - This Halloween Luminary Bags DIY has scary fall trees that were hand painted on with black paint. This is a tutorial that gives you instructions stroke by spooky stroke until you have a tree filled with branches. I think what is so scary about a tree without leaves is that they look like giant claws reaching up towards the sky. Eerie! LED lights were used in this craft.
13. Lunch Bag Landscape with Spray Paint- This Halloween Luminary Bags DIY was quite imaginative! with the use of Halloween Stencils, you can make a scene quickly . I love that these bags became a centerpiece Landscape. The link to the stencil template didn't work for me, but you can find some online.
Melted Crayons - What is Spookier than dripping wax? Layers of Crayon wax on White Wax Paper Bags! This crafter used a real tea-light candle, but placed it in a white plastic cup before putting it in the bag for extra caution. Great Halloween Hack! The hole punches work great for sneaking little arrays of light but if you have halloween shaped hole punches, I think that would work wonders!
Halloween String Paper Lantern Lights - SharpieIf you can draw or trace and you have a sharpie marker, than this Halloween Luminary Bags DIY is for you! This crafter used wax paper candy bags and battery operated lights and a fine-tip sharpie. The wax paper candy bags were attached with scotch tape. Simple and easy to use!